We started this activity in 1986, inspired by Antonio Baroni's ambition and entrepreneurial dream as well as his experience in this field for over 10 years. At the beginning we only had one thermoforming machine and some electric tools. Today we have five thermoforming machines and three 5-axis cutting centres, in addition to innovative internal departments for modelling, carpentry, workshop and assembly. In 2008, for the first time, we received the important ISO 9001:2008 and ISO14001:2004 certifications. In 2012, Danilo, Antonio's elder son, joined the company, bringing with him a surge of enthusiasm and fresh ideas.
The expertise of the old generation together with the limitless ambition of the new generation has allowed us, over the years, to offer a wide range of services thanks to new technologies and materials that can adapt to specific manufacturing processes. Today we can rely on state-of-the-art tools for the thermoforming, digital control milling machines, CAD design and scans for reverse engineering or dimensional checks. In 2016 we extended our plant and our production centre now covers an area of about 3,000 square metres.
OUR QUALITY SPEAKS FOR ITSELF
Since September 2017 we have been certified according to the new ISO 9001:2015 and 14001:2015 standards.
The art of thermoforming
Our company's core business is the thermoforming of sheets which, thanks to our machines, can have a maximum surface of 2000x2500x600 mm and a thickness of 8 mm. Our modelling department is extremely important and, thanks to the purchasing of a new workstation in October 2016, we can provide even higher precision and quality standards while meeting tight deadlines.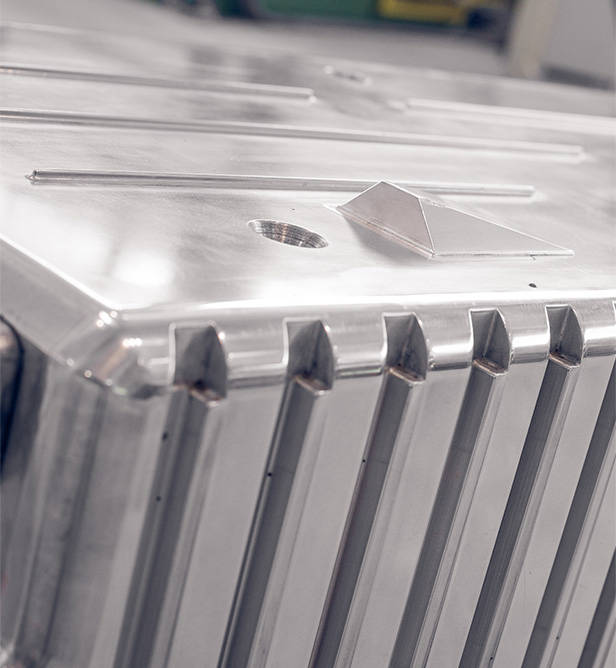 FROM PROJECT TO FINISHED PRODUCT
Our expertise, flexibility and management skills allow us to accept all challenges in our sector. Thanks to recent investments, we are now able to follow every step of a new project within our company, from the preliminary design to the final moulding, after having completed all the different phases necessary to meet our clients' expectations. Being independent from other companies guarantees the greatest discretion and confidentiality and allows us to deliver every project in the shortest possible time. Our company is a family-run business and this is a synonym for reliability and high-quality, with a dedicated staff available to assist you at any time.